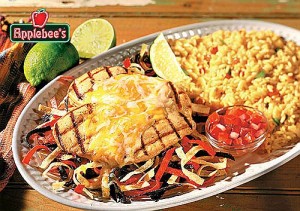 Preparation time : 25 min. + 2 hrs. Marinating time | Serves 4 persons
This Fiesta Lime Chicken was inspired by the original Applebee's Fiesta Lime Chicken. In the given recipe orange juice is used in place of tequila which also tastes great and addition of red pepper flakes makes this Chicken Little spicier.
Ingredients:
For Chicken Marinade:
1 lb. chicken breast (with bone and skin)
1 cup water
¼ tsp ground ginger
1/3 cup teriyaki sauce
1 tsp red pepper flakes
1 tsp orange juice
½ cup lime juice
Salt to taste
1 tsp liquid smoke
For Dressing:
2 tbsp chunky and spicy salsa
¼ tsp dried parsley
1/8 tsp cumin
¼ cup mayonnaise
1 tbsp milk
¼ cup sour cream
1 tsp Cajun blackening spice
¼ tsp hot sauce
1/8 tsp dried dill
Salt to taste
For Topping:
1 cup Jack cheese (shredded)
2 cup corn chips (crumbled)
Procedure:
1. Marinate chicken pieces with the ingredients mentioned for marinade and leave for at least 2 hrs. so that flavors thoroughly absorb in the chicken from inside.
2. Meanwhile prepare dressing for the chicken for that you need to mix mayonnaise, sour cream and milk together in a large mixing bowl.
3. When the mixture becomes uniform, add rest of the ingredients of dressing and mix well so that every ingredient incorporates well with each other.
4. When marinating time of chicken is finished mix ¼ amount of prepared dressing in the chicken.
5. Heat the grill pan with 1-2 tbsp of oil and grill each piece of chicken for 8-10 min so that chicken would become golden brown from both sides.
6. After that brush the grilled chicken with the remaining dressing, top with cheese and broil for 10-15 min until cheese melts completely and dressing absorbs in the chicken.
7. Make a layer of crumbled corn chips on serving platter and then serve the hot Applebee fiesta lime chicken over the crumbs with Spanish rice.