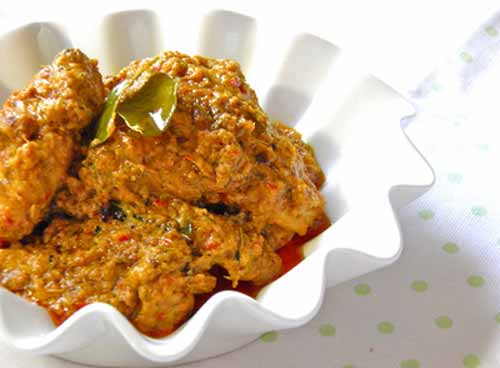 Preparation time: 1 hr. 15 mins. | Serves 6 persons
This Chicken Rengdang Recipe originally belongs to Malaysian cuisine but it is also a very famous dish in Far eastern cuisine. It is usually served with Malaysian rice cooked with coconut milk and Nasi Lemak (Malaysian sauce).
Ingredient:
1 whole chicken (cut into large pieces)
¼ cup oil
3-4 star anise
2-3 cinnamon sticks
2-inch piece galangal
3-4 birds eye red chilies
10 shallots
4-6 garlic cloves
3-4 lemon grass stalks (remove hard portion)
1 tsp turmeric
2-3 lime leaves
2 cups coconut milk
Salt to taste
Procedure:
1. Process together galangal, shallots, red chilies, garlic, and lemon grass with a bit of water until becomes smooth.
2. Heat oil in a heavy saucepan, fry star anise, and cinnamon sticks in it until fragrant then add chicken pieces and fry till become light golden in color.
3. Now add the prepared paste, turmeric, salt, and 1 cup of coconut milk and mix well. Bring the mixture to a boil and then simmer for 15 mins.
4. After that add lime leaves and cook until all the water evaporates from the chicken then add the remaining coconut milk and simmer for a further 40-50 mins.
5. When the oil comes onto the surface of the gravy, remove the pan from heat and remove the lime leaves from the gravy.
6. Serve the hot Chicken Rendang with steamed rice or Nasi Lemak (Malaysian Rice).