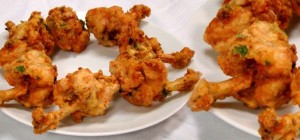 Preparation time : 30 mins. + Marinating time | Serves 10-12 lollipops
This Chicken Lollipop Recipe is prepared using Chinese flavor of famous hoisin sauce. These lollipops are extremely delicious in taste and can be served as it is or with topping of sesame flavor sauce.
Ingredients:
For Marinade:
2 lb chicken legs or wings
2 tbsp hoisin sauce or to taste
½ tsp ginger powder
1 tsp garlic powder
Salt to taste
For Batter:
1 cup flour
1 tsp baking powder
½ tsp salt
½ cup cornflour
2 egg
½ cup green onions (thinly sliced)
Oil for deep frying
Procedure:
1. Shape chicken legs or wings into lollipops as mentioned in the video below. Keep in mind that if you want
to make small lollipops then use only wings portion whereas for larger size use legs.
Using Wings:
Using Legs:
2. Marinate lollipops with the ingredients mentioned for marinade and leave for 3-4 hours.
3. Prepare smooth batter using flour, cornstarch, baking powder, salt and eggs (add cold water just to make it smooth but slightly thick batter). In the end fold it with spring onion slices.
4. Now dip each marinated chicken lollipops into the batter and then deep fry in the preheated oil till become nice golden brown in color over medium heat. Make sure that the lid should be closed while frying so that meat would tender perfectly. Otherwise to preserve your time you can first steam the marinated chicken for 15-20 mins. then dip in batter and fry.
5. Serve the yummy chicken lollipops with hoisin sauce or chili garlic sauce.
photo source : 1