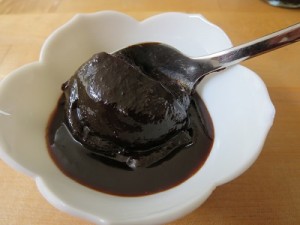 Preparation time : 15 mins. | Serves ½ cup
This Recipe for Hoisin Sauce is not much exactly the same as typical Chinese hoisin sauce but its flavor closely matches with the original one. In some of the recipes black bean paste is replaced with peanut butter or sweet red bean paste but in original recipe only soya bean paste is used.
Ingredients:
4 tbsp soy sauce
2 tbsp black bean paste
1 tbsp honey
2 tsp white vinegar
⅛ tsp garlic powder
2 tsp sesame oil
1 tsp hot sauce (chinese flavor recommended)
⅛ tsp black pepper
½ tsp sugar
¼ tsp salt
Procedure:
1. Combine all ingredients in a saucepan. Cook over medium heat till gts bubbly and thick.
2. Remove pan from heat cool it to room temperature then refrigerate in an airtight bottle. It can be used up to one week.
photo source : 1