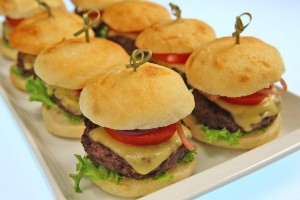 Preparation time : 30 mins. | Serves 8 burgers
This Party Burger recipe is prepared with beef patties having some Cajun like seasoning flavor. You can also make this recipe with ground chicken also and adding some chipotle mayo or jalapeno would definitely enhances its flavor but if you don't like spicy flavor of burger than follow the recipe as given below.
Ingredients:
For Patties:
1 lb ground beef (leaned)
¼ cup red onion (finely chopped)
2 tbsp fine dry bread crumbs
2 tbsp water
1 tsp Worcestershire sauce
1 tsp salt
¼ tsp dried oregano
½ tsp paprika
¼ tsp cayenne pepper
¼ tsp ground black pepper
1 tsp garlic powder
1 tsp ginger powder
For Assembling:
2 oz cheddar cheese slices (cut into 8 squares)
8 mini burgers
Shredded fresh leaf lettuce
1 red tomato (thinly sliced)
Procedure:
1. To make beef patties combine chopped onion, bread crumbs, water, Worcestershire sauce and seasonings of oregano, cayenne, black pepper, ginger garlic powder, paprika and salt.
2. When mix thoroughly divide it into 8 equal portions and make thick patties of round shape.
3. Place them onto the wax paper and broil for 10-15 mins. until done completely. Turn in between broiling to cook evenly from both sides.
4. Place shredded lettuce at the base of burger, put one patty on it, cover it cheese slice, add some tomato slices and cover again with burger top. Insert a cocktail party picks if necessary.
5. Serve the delicious beef party burger with fries and ketchup.
photo source : 1