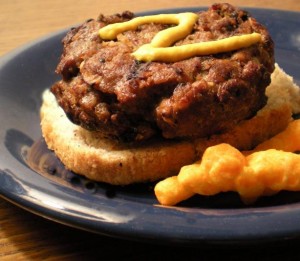 Preparation time : 30 mins. | Serves 8 burgers
These french burgers are prepared with minced beef which you may also prepared with ground chicken if you don't like beef or want to save time. These patties have some cheesy flavor along with mushrooms and olives. You may replace cheddar cheese with your favorite cheese flavor like American cheese or blue cheese.
Ingredients:
3 tbsp butter
1 onion small (minced)
½ lb fresh mushrooms (sliced)
1 lb ground beef (extra-lean)
½ tsp salt
Freshly ground pepper to taste
2 cloves garlic (minced)
1 cup cheddar cheese (shredded)
½ cup olives (chopped and pitted)
8 french rolls
Mustard paste for dressing
Procedure:
1. Take a saucepan, heat butter and saute onion and mushrooms together for just 1-2 mins. then remove from heat.
2. In a mixing bowl, combine ground beef, salt, pepper, garlic, cheese, cooked onion and mushroom mixture and black olives.
3. Mix them well and divide meat mixture into 8 patties evenly. Now make patties of your palm size and set aside.
4. Grill these patties over medium coals and close hood for about 20-30 mins. without turning until meat cooked well or reached to desired doneness.
5. Serve the grilled french patties with french rolls and topping of mustard paste.
photo source : 1