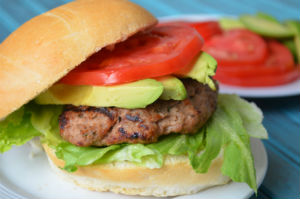 Preparation time: 30 mins. | Serves 4 burgers
These Ranch Turkey Burgers are prepared with ground turkey patties having ranch-dressing flavor. You can also make this burger using smoked turkey slices and add ranch buttermilk dressing while assembling the burger. However, follow the instructions below to learn the recipe for the perfect ranch turkey burger.
Ingredients:
For Patties:
1 lb ground turkey
1 pck ranch dressing mix
1 tbsp garlic (minced)
1 tsp onion powder
1 tbsp Worcestershire sauce
Salt and pepper to taste
½ cup Italian breadcrumbs
1 egg
Oil for shallow frying
For Assembly:
4 buns
Tomato (sliced)
Lettuce leaves
Cheddar cheese slices
2 tbsp butter
Procedure:
1. In a mixing bowl, combine the ingredients mentioned for making patties and mix them well.
2. Make patties of your palm size using the turkey mixture and set aside.
3. Heat oil for shallow frying in a skillet; fry the patties in batches for 5-8 mins. then turn the side and cook for 5 mins. more or until becomes crispy golden from both sides. You may also use a grill pan to cook the patties.
4. Take the buns; divide each of them into two equal slices. Spread the butter on the inner side of each slice.
5. Lightly toast the buns onto the skillet at very low heat, just to give a slightly golden color on the buttered side.
6. Now start assembling the buns, fist place a salad leaf on the bottom slice, then place a turkey patty on it, then put a thick tomato and cheese slice and then cover with the top bun slice.
7. Delicious Ranch Turkey burger is now ready to serve with ranch salad.
photo source : 1