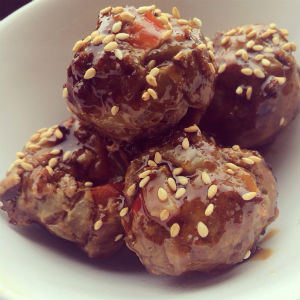 Preparation time: 60 mins. (approx.) | Serves 30 meatballs
Teriyaki Meatballs Recipe is a Japanese-style meatball prepared with brown glaze having the delicious aroma of sesame. The meatballs are prepared more or less in a similar way as you prepare for other meatballs recipes; the only difference is the teriyaki glaze which enhances the flavor of this recipe.
Ingredients:
For Meatballs:
1 lb ground turkey
1 large egg
½ cup breadcrumbs
1 clove garlic (minced)
2 inches fresh ginger (minced)
½ tsp soy sauce
2 stalk green onions (thinly sliced)
1 tsp freshly grated black pepper
For Sauce:
½ cup soy sauce
½ cup brown sugar
½ cup water
½ tbsp sesame oil
1 tbsp apple cider vinegar
2 inches fresh ginger (minced)
2 tbsp cornstarch
1 tbsp toasted sesame seeds
Procedure:
1. Preheat the oven to 400 degrees F.
2. Take a large mixing bowl, and combine ground turkey, ginger, garlic, green onions, egg, breadcrumbs, soy sauce, and black pepper. Mix them using your hands until well combined and make small balls of lemon size.
3. Take a baking sheet lined with foiling paper; place the meatballs on the baking sheet and bake in the preheated oven for 30-40 mins. or until golden brown.
4. Meanwhile, prepare the teriyaki glaze or sauce for the meatballs, for that you need to combine soy sauce, water, brown sugar, and vinegar.
5. Heat sesame oil in a saucepan; add the ginger and sauté for just a few seconds until fragrant.
6. Then add the combined liquid mixture and cook until it starts boiling. Adjust the seasoning of salt and pepper according to your taste.
7. Dissolve cornstarch in 2-4 tbsp of water and then add it to the sauce, keep stirring to mix the starch evenly and cook until the sauce gets thick.
8. Turn off the heat and add the toasted sesame seeds to the prepared glaze.
9. When the meatballs are ready, transfer them from the baking sheet into the glaze pan and stir to coat evenly on every meatball.
10. Now transfer the teriyaki meatballs with glaze into the serving platter and garnish with some slices of spring onion and steamed rice.
photo source : 1