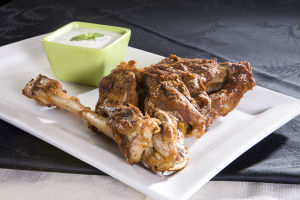 Preparation time: 50 mins. + Marinating time | Serves 4-6 persons
This Mutton Roast Recipe is prepared with South Asian spices and flavors. To prepare this recipe, mutton is first marinated with a spicy batter for several hours then cook on steam and finally bake in the oven for 5 mins. You may also simply apply the baking or grilling method to prepare this spicy leg roast.
Ingredients:
3-4 lb mutton leg or large mutton pieces (leaned and rinsed thoroughly)
2 tbsp raw papaya paste or 1 tbsp meat tenderizer
2 cup yogurt
3 tbsp ginger paste
2 tbsp garlic paste
½ cup Khoya or ricotta cheese
3 tbsp green chili garlic sauce
4 tbsp fried onion (crushed)
1 tbsp roasted, blanched, and ground almonds
Salt to taste
1 tbsp red chili powder
1 tsp roasted ground coriander
1 tbsp roasted ground cumin
1 tsp hot mix spice powder
¼ tsp ground nutmeg
¼ tsp ground mace
¼ tsp ground green cardamom
½ cup fresh cream
For Green Chili Sauce:
6-8 roasted garlic cloves
3-4 Serrano chilies
1 tbsp white vinegar
1 tsp brown sugar
1 tbsp sesame oil
1 tbsp yellow onion (finely chopped)
1 tsp soy sauce
Procedure:
1. To prepare green chili sauce, blend together garlic, chilies, vinegar, and brown sugar until become smooth.
2. Sauté chopped onion in sesame oil, and then add it to the blended paste. Give a few pulses to mix evenly.
3. Add soya sauce and mix well, your green chili sauce is ready.
4. Now before starting marination, dry the mutton leg with cloth and then place it onto the wide and slightly deep dish.
5. In a mixing bowl, combine all the ingredients mentioned for making mutton leg and then whisk so that a uniform batter would form.
6. Pour this mixture onto the mutton leg and marinate well using your hands, making cuts so that all the flavors would absorb well inside.
7. When the marination has been done, cover and leave it overnight or at least 4-6 hrs.
8. Now heat half a cup of oil in a deep and wide saucepan, add the marinated mutton leg in it, and cook over high heat for 5-8 mins, until become light brown.
9. Then reduce the heat to simmer, add leftover marination, cover, and simmer for 40-50 mins. Or until the meat is done completely.
10. After that turn on the upper grill burner of your oven and bake the cooked mutton leg for just 5 mins. so that nice crispy brown color appears on top.
11. Serve the hot mutton leg with fries and sauté vegetables.