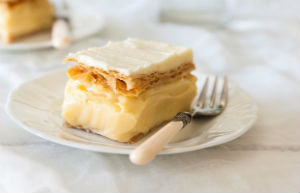 Preparation time: 30 mins. + Refrigeration time | Serves 16 slices
This Vanilla Slice Recipe is an extremely delicious and easy party dessert. This dessert is prepared with basic vanilla custard which is sandwiched between two puff pastry layers; while the sugar frosting layer at the top adds some extra taste to the slice. You can also make strawberry slices using the same recipe by just replacing the vanilla custard with strawberry custard having some chunks of strawberry.
Ingredients:
2(17 oz) frozen puff pastry sheets (thawed)
1 cup white sugar
½ cup custard powder
¾ cup cornstarch
5¼ cup milk
¼ cup butter
2 egg yolks
1 tsp vanilla extract
1 cup icing sugar
1 tbsp milk
1 drop of vanilla extract
Procedure:
1. Take two rectangular baking sheets, grease them properly then unfold the puff pastry sheets and place them onto the baking sheets. Bake in preheated oven at 400 degrees F for 10 mins. or until becomes light brown.
2. Meanwhile start preparing the custard, for that you need to boil 5 cups of milk in a saucepan, then add sugar and vanilla and cook till sugar dissolves completely.
3. Dissolve custard powder and cornstarch into the remaining ¼ cup of milk and make a smooth paste.
4. Add this paste to the boiled sugar-milk mixture and stir continuously so that no lumps would form.
5. When the custard batter becomes thick and starts bubbling, remove the pan from heat and add egg yolks and whisk the batter well for getting a smooth batter.
6. For topping glaze, combine icing sugar, milk, and vanilla in a mixing bowl until becoming a thick fine paste.
7. Now take a 9-inch baking dish and line it with aluminum foil or parchment sheet. Transfer one of the baked puff pastry sheets onto the foil and spread the prepared custard evenly over the pastry.
8. Cover the custard layer with other pastry sheets and drizzle the prepared sugar glaze on top. Refrigerate for at least 4-6 hrs. or until the custard layer gets firm and can be easily cut into slices.
photo source : 1