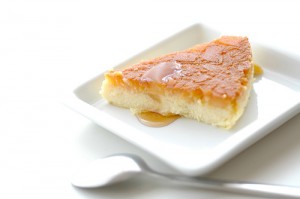 Preparation time : 90 min. | Serves 6 persons
This sweet potato pudding is an easy recipe of pudding, it only takes time in baking while rest of procedure is so simple that you only need to mix ingredients as mentioned below and then bake it by oven poach method to keep the pudding moist.
Ingredients:
3 cup grated sweet potatoes (strained)
2 cup milk
2 eggs
1 1/3 cup granulated sugar
¼ tsp ground cinnamon
¼ tsp ground nutmeg
100 gm butter
Procedure:
1. In a large mixing bowl beat eggs for 2-3 min at high speed.
2. Add milk and sugar and start beating again until batter become smooth and all the sugar would completely dissolve in the batter.
3. Add grated sweet potatoes, cinnamon and nutmeg and mix at low speed.
4. Take a greased baking mold of suitable size and shape and pour the whole batter in it, top with butter and then place the mold in a dish of hot water so that water would not enter into the mold.
5. Bake in preheated oven for 70-90 min until knife inserted comes out clean.
photo source : 1