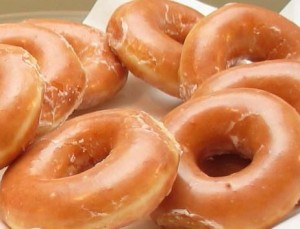 Preparation time : 60 min. + 8 hrs. Refrigeration time | Serves 24 doughnuts
This potato doughnuts recipe is no bake doughnuts recipe which is prepared with almost the same method as our previous doughnuts recipe which you liked. The only difference is in the ratio, addition of yeast and refrigeration time. You can keep this dough for 3 days in fridge by covering it properly.
Ingredients:
For Dough:
1 tbsp instant yeast
1 ½ cup warm water (divided)
1 cup lukewarm mashed potatoes
2/3 cup sugar
2/3 cup shortening
2 eggs
1 ½ tsp salt
6-7 cup all-purpose flour or as required
Oil for deep frying
For Glaze:
1 ¾ cup icing sugar
¼ cup milk
½ tsp vanilla extract
Procedure:
1. In a cup dissolve yeast and 1 tbsp sugar in ½ cup warm water and let it stand for 8-10 min until bubbles starts to appear at the surface.
2. Now mix remaining water, potatoes, sugar, shortening, eggs, salt, and yeast mixture and make soft dough using flour which can be handled easily.
3. When dough is formed, knead it gently on a floured surface so that it would become elastic and then put it in a large greased bowl. Turn the dough in the bowl al around so that it becomes greasy from every side and then cover it tightly using gelatin sheet and leave for 8 hrs. in refrigerator. You can keep this dough in refrigerator for 3 days.
4. After that divide the dough into two portions and roll each piece to ½ inch thick on floured surface and make doughnuts using cutter. Place the doughnuts on a tray, cover and leave for 30 min to rise.
5. Heat oil in a wok up to moderate temperature and then fry doughnuts in batches until become golden brown from both sides.
6. For preparing glaze, mix all the ingredients mentioned for glaze and whisk together until get the desired consistency. It would be thick so that becomes dry quickly.
7. Coat the fried doughnuts with the prepared frosting and then leave in air for 15 min or until glaze gets dry.
photo source : 1