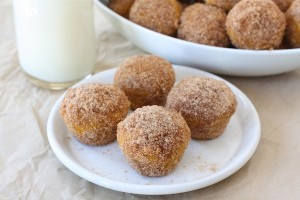 Preparation time : 20 min. | Serves 18 – 24 balls
These pumpkin balls are also known as pumpkin holes or pumpkin donut balls if you make it like donut shape. The recipe of making these balls is very easy and is one of the favorite Halloween party food recipes. You may either fry or bake these balls according to your desire.
Ingredients:
1½ cup sugar
¼ cup oil
2 eggs
1 cup. pumpkin
3½ cup flour
4 tsp baking powder
¾ tsp ground cinnamon
½ tsp ground ginger
¼ tsp ground nutmeg
¼ tsp salt
½ c evaporated milk
1 tsp vanilla
Procedure:
1. In a mixing bowl beat together sugar, oil, eggs, vanilla and pumpkin until gets smooth uniform texture.
2. Sift together dry ingredients including flour, baking powder, cinnamon, ginger, nutmeg, and salt.
3. Now alternately add evaporated milk and dry mixture to the pumpkin batter and mix well using spatula.
4. When the batter becomes smooth, heat oil for deep frying in fryer or woke.
5. Drop tablespoons of batter in the oil and fry for 1-2 min per side.
6. After that, take out the pumpkin balls from the oil and drain it well on paper towel and immediately roll the balls with confectioner sugar.
photo source : 1