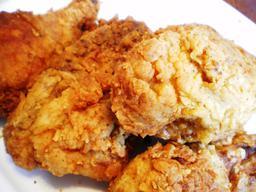 Preparation time : 30 min + Marination time | Serves 8 pieces
This Arabian fried chicken is one of a famous Arabian restaurant recipe the Al-Baik. Its just like any broast chicken but has some different flavor due to the spices used in the marination and special season flour. It is usually served with traditional garlic sauce and fries but you can serve it with your favorite dip.
Ingredients:
For Marinade:
1½ kg chicken pieces with skin (or 8 large pieces)
3 tbsp flour
3 tbsp cornflour
1 tsp ginger paste
1 tbsp garlic paste
1 tbsp soy sauce
1tbsp lemon juice
1 tbsp red chili powder
1 tsp crushed black pepper
1 tsp salt
1 tsp chicken powder
1 tsp kachri powder or meat tenderizer powder
1 egg (lightly beaten)
For Frying:
½ cup flour
¼ cup corn flour
½ cup rice flour
1 tsp salt
1 tsp paprika
1 tsp ground white pepper
1 tsp baking powder
½ tsp ground star nut
½ tsp ground cinnamon
Oil for deep frying
Procedure:
1. Combine all ingredients mentioned for marinade and coat well over the chicken pieces. Leave them for overnight or 4-6 hrs.
2. To prepare season flour for the chicken, sift together all ingredients onto a wide platter.
3. Dust chicken pieces with the season flour and set aside for 5 min.
4. Heat oil for deep frying in fryer or in a large wok having proper lid. Fry chicken pieces in batches of 2 or 3 over medium heat and cover properly so that steam would remain inside and chicken gets tender completely.
5. When chicken pieces become light golden in color take them out on serving platter and serve with traditional garlic sauce and fries.
photo source : 1