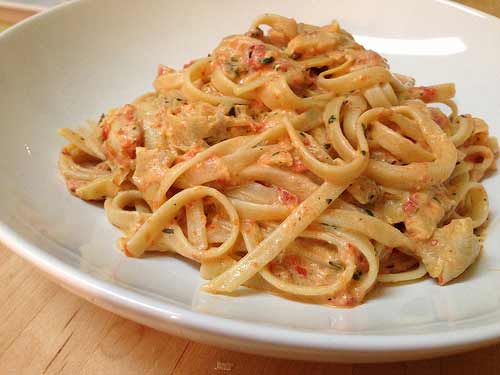 Preparation time: 30 mins. | Serves 2-4 persons
This Cajun Chicken Alfredo Pasta is creamy delicious chicken pasta. It is prepared with creamy alfredo sauce with Cajun chicken and linguine pasta. You may also use shrimp in place of chicken and noodles instead of linguine.
Ingredients:
For Chicken:
2 boneless skinless chicken breast halves (cut into thin strips)
¼ tsp salt
¼ tsp garlic powder
½ tsp paprika
1/8 tsp ground black pepper
1/8 tsp onion powder
1/8 tsp cayenne pepper
¼ tsp dried oregano
¼ tsp dried thyme
1/8 tsp red pepper flakes (optional)
2 tbsp butter
For Sauce:
8 slices green peppers
8 slices sweet red peppers
½ lb mushroom
1 green onion (sliced)
1 -2 cups heavy cream
¼ tsp dried basil
¼ tsp lemon-pepper seasoning
1/8 tsp garlic powder
1/8 tsp pepper
4 oz linguine or noodles (cooked and drained)
Procedure:
1. Marinate chicken with the spices mentioned for making chicken and then leave for 15 mins.
2. Heat butter in a pan, and cook chicken in it for 8-10 mins. until chicken strips become tender.
3. Now add red and green pepper, mushroom, and green onion and cook for 2-3 mins.
4. Add cream along with the remaining seasonings and cook until bubbly.
5. When all the flavors mix well add linguine pasta and toss well with the sauce.
6. Cajun Chicken Alfredo Pasta is now ready to serve with a topping of some parmesan cheese and parsley.
photo source : 1