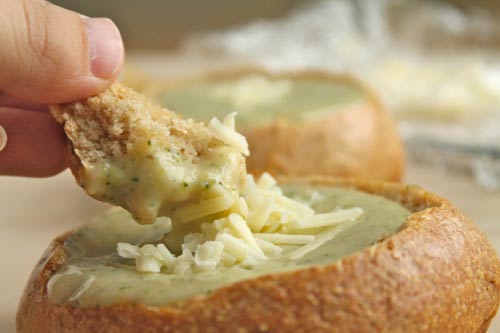 Preparation time: 30 mins. | Serves 4 cups
This Cheese And Broccoli Soup Recipe is a delicious creamy soup with full of broccoli flavor. In this recipe, only cheddar cheese is used which you can replace with your favorite cheese except for mozzarella. This soup is best served with a bread roll or you can serve it in a bread cup as mentioned in the recipe.
Ingredients:
3 tbsp butter
1 cup white onion (chopped)
2 large garlic cloves (minced)
2-3 tbsp all-purpose flour
2 cup chicken stock
1 cup half and half
1 lb fresh broccoli (cut into small florets)
1 bay leaf
Pinch of ground nutmeg
Pinch of dried basil
¼ tsp cayenne pepper
1 cup sharp cheddar cheese
Salt and pepper to taste
Procedure:
1. Take a deep saucepan for making the soup, heat butter, and sauté onion and garlic in it for 1-2 mins. until translucent.
2. Add flour to the sauté mixture and stir continuously for 2 mins. or until flour absorbed all the liquid.
3. Now slowly add chicken stock and gently stir the mixture so that no lump would be there.
4. When the soup becomes uniform, add broccoli florets along with half and a half and simmer for 10 mins.
5. When the broccoli becomes soft, remove the pan from heat and blend the soup using an immersion blender until all the broccoli florets break and mix evenly in the soup.
6. After that add seasonings of nutmeg, basil, bay leaf, and cayenne and simmer again for 5 mins.
7. When all the flavors mix well in the soup, remove the pan from heat and add cheddar cheese to the soup. Stir well to mix evenly.
8. Take out the soup into the serving bowl or in a wheat bread cup, sprinkle some salt and pepper, and add some topping of grated cheese.
photo source : 1