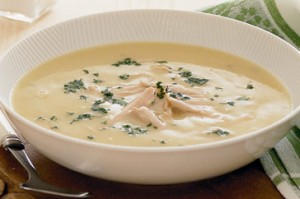 Preparation time : 30 mins. | Serves 4 persons
This recipe for cream of chicken soup is one of basic cream of soup recipe which is no doubt a healthy and delicious soup. You can make different kind of cream of vegetable soup using this recipe by eliminating chicken and garlic and adding your favorite vegetable like mushrooms.
Ingredients:
2 tsp flour
2 tbsp oil
4 cup milk
1 chicken bouillon
1 cup lukewarm water
2 tbsp caster sugar
2 cup cooked and shredded chicken
½ tsp salt or to taste
½ tsp black pepper
2-3 garlic cloves (chopped)
½ cup cream
Procedure:
1. Take a suitable pot for making soup, heat oil and cook flour in it till pleasant roasting smell starts to come, it would take 2-3 mins.
2. Then gradually add milk in it and whisk constantly to avoid making lumps.
3. Dissolve chicken bouillon in lukewarm water, add it to the soup and mix well.
4. When the soup gets thick add in rest of ingredients including chicken, caster sugar, salt and pepper, and garlic cloves. Simmer for 15-20 mins.
5. Remove the pot from heat and stir with cream until it blends well.
6. After that take out the soup in a bowl and serve with topping of fresh parsley.
photo source : 1