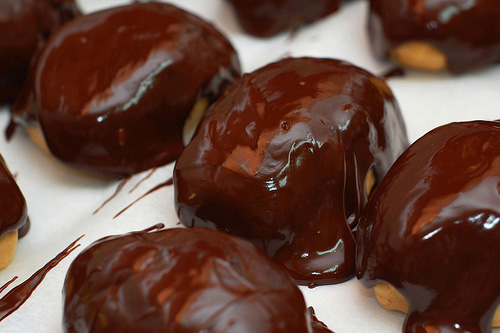 Preparation time: 30 mins. + Refrigeration time | Serves 12-16 eggs
This Peanut Butter Eggs Recipe is one of an easy sweet treat prepared with peanut butter dough and chocolate topping. You can also add some colorful sugar sprinkles and drizzle some caramel on top of these eggs.
Ingredients:
For Eggs:
10 oz peanut butter
4 oz cream cheese
4 oz unsalted butter (softened)
1 tsp vanilla
16 oz powdered sugar
For Topping:
10 oz semisweet chocolate chips
14 oz sweetened condensed milk
Procedure:
1. In a mixing bowl, combine the first four ingredients and mix well using a dough mixer or hands until well combined.
2. After that, gradually add sugar and mix until a thick sticky dough is formed.
3. Then make small balls and give them egg-like shape, if you feel the dough is too sticky to handle then grease your hands with butter and then make eggs.
4. Place these eggs on a greased parchment sheet and refrigerate for a few mins. to set.
5. Melt chocolate and condensed milk over a double boiler or in the microwave.
6. Dip each peanut butter egg in the melted chocolate mixture and then refrigerate for 15 mins. till the chocolate sets nicely.
photo source : 1