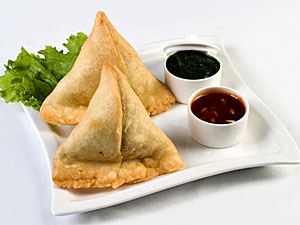 Preparation time : 45 mins. | Serves 2 dozen samosa
This aloo samosa recipe is another famous street food from Pakistani cuisine. It is usually served as tea time snack with spicy chutneys like sweet and sour tamarind chutney, spicy yogurt sauce, green chutney.
Ingredients:
For Filling:
3 large potatoes (peeled and cubed)
1 cup boiled green peas (coarsely chopped) (optional)
1 tsp crushed red pepper
1 tsp chaat masala powder
1 tbsp lemon juice
2 tbsp crushed coriander seeds
¼ cup chopped fresh coriander leaves
3-4 green chilies chopped
Salt to taste
For Dough:
2 cup all-purpose flour
½ cup ghee or butter
1 tsp salt
1 tsp carom seeds
½ tsp nigella
Water as required
Oil for deep frying
Procedure:
1. Boil potatoes and then coarsely mash them with hands only so that chunks of potatoes would remain there.
2. Now combine all ingredients mentioned for filling and mix them well.
3. To prepare dough, combine flour, salt, carom and nigella and mix well using hands so that soft crumbs would form. Then gradually add water to knead the dough, it should be medium soft.
4. Divide the dough into 12 small balls, roll out each dough to make it thin as possible using rolling pin
5. Now divide each rolled dough into two equal halves using knife, take one of a half piece, brush all the sides with water or egg white, place 1-2 tbsp of prepared potato filling in the center turn one of the sharp edge corner over the filling, similarly turn the other edge and join both of them in center, now press the two open bottom sides using your fingers and seal it nicely from every side. (to learn how exactly you will make these samosa shape watch the video below).
6. Now heat oil for deep frying in a pan and fry prepared samosas in batches till become golden brown in color.
7. Serve the hot aloo samosa with tamarind chutney, yogurt sauce or mint sauce.
photo source : 1