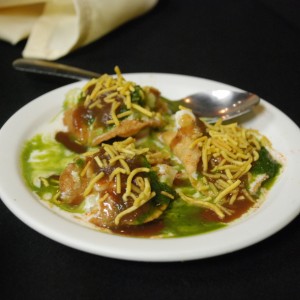 Preparation time : 10 mins. | Serves 2 persons
This samosa chaat recipe is prepared in a very similar fashion as traditional Pani Puri in Pakistani cuisine. You can make some variations in this recipe by adding some different kind of chutney and dahi boondi (fried dumplings) to make it more delicious.
Ingredients:
4 aloo samosa
½ cup boiled chickpea
¼ cup yogurt (whisked)
2 tbsp green chutney
2 tbsp tamarind chutney
Chaat masala to taste
Crushed red pepper to taste
Nimco for topping
Procedure:
1. To get the recipe for aloo samosa click here.
2. Take a medium serving platter, place 4 hot aloo samosa in circle, press using your thumb in the front center point of each samosa then put some boiled chickpea in the hole.
3. Now pour some yogurt, green chutney, tamarind chutney as layers on the chickpea and then sprinkle crispy nimco, chaat masala and crushed red pepper on top.
4. Serve the hot and spicy samosa chaat immediately.
photo source : 1