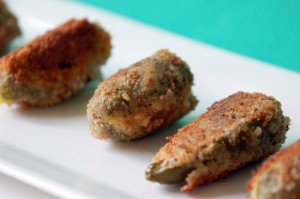 Preparation time : 20 mins.
These Stuffed Peppers with Cream Cheese is one of an interesting hot recipe for Ramadan when everyone wants to eat some delicious fried food. The stuffing is full of cheesy flavor due to cream cheese, cheddar cheese along with great flavor of sour cream. These peppers can be served with any dip but hot tomato salsa goes great with this recipe.
Ingredients:
10-12 jalapeno peppers (take out seeds from inside and make it hollow)
½ cup cream cheese
½ cup sour cream
¼ cup cheddar cheese
¼ cup fresh coriander leaves (chopped)
1 cup cooked chicken (shredded)
Salt and pepper to taste
1 tsp minced garlic
Bread crumbs as required
1 egg (lightly beaten with 2 tbsp water)
Oil for frying
Procedure:
1. In a mixing bowl combine, cream cheese, cheese, sour cream, salt, pepper, chicken, garlic and coriander leaves and mix well.
2. Now fill each jalapeno with the prepared filling and set aside.
3. After that dip each stuffed jalapeno in beaten egg and then coat with crumbs mixture.
4. Heat oil for deep frying in a wok (or you can use oil for shallow frying), fry the stuffed peppers in batches till become golden brown from every side.
5. Serve the hot stuffed peppers with your favorite dip.
photo source : 1