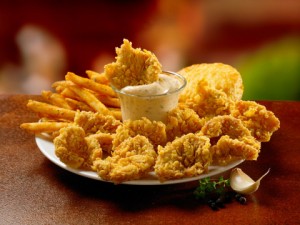 Preparation time : 40 mins. | Serves 1 large bowl
This Popeye Chicken Recipe is one of a famous food of an American Restaurant. Though the recipe is not the exact match but the taste greatly matches with the one you eat in the restaurant.
Ingredients:
1 kg boneless chicken (cut into small cubes and flatened)
Oil fry deep frying
For Flour Mixture:
1 cup self raising flour
½ cup corn flour
1 tsp salt
1 tsp paprika
1/4 tsp baking soda
1/2 tsp black pepper
1/2 tsp mustard powder
1 tsp caster sugar
For Egg Coating:
2 eggs
¼ cup cold water
For Crumbs Coating:
1 cup cornmeal
1 cup Panko or Japanese crumbs
Procedure:
1. To prepare flour mixture sift together self raising flour, corn flour, paprika, baking soda, sugar, salt, black pepper and mustard powder.
2. In a mixing bowl, beat together cold water and eggs to mix them well and set aside.
3. In another bowl, combine cornmeal and panko crumbs and mix well.
4. Now take a cube of chicken first dust it with flour mixture, then dip in egg mixture and finally coat with crumbs mixture and set aside. Similarly coat rest of the chicken cubes and place them onto the wide tray.
5. After that place the chicken tray in freezer for just 15 mins. so that coating would set perfectly.
6. Then heat oil for deep frying in the wok, add chicken cubes in batches and fry over medium heat till gets golden brown from every side.
7. Serve the hot Popeyes Chicken with fries and your favorite dip.
photo source : 1