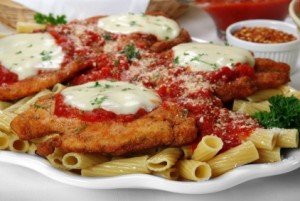 Preparation time : 20 min | Serves 2 persons
This chicken Romano recipe is basically chicken cutlets fried with seasoned breadcrumbs and off course the main ingredient pecorino Romano cheese. You can prepare sauce according to the recipe given below or use this salsa to save your time.
Ingredients:
3 tbsp seasoned breadcrumbs
3 tbsp grated pecorino Romano cheese
4 thin sliced boneless chicken cutlets
1 tbsp olive oil
14 diced tomatoes
1 tsp Italian seasoning
3 cloves garlic (peeled and crushed)
2 tbsp sliced pitted kalamata olives
1 tsp balsamic vinegar
1/8 tsp red pepper flakes
3 tbsp fresh basil leaves (coarsely chopped)


Procedure:
1. In a mixing bowl combine breadcrumbs and cheese.
2. Coat chicken pieces with the breadcrumbs mixture.
3. Heat oil in a skillet and cook chicken pieces over medium heat until become golden brown form each side.
4. In a sauce pan add tomatoes with juice, garlic, olives, Italian seasoning, vinegar and red pepper. Cook for 2 min or until sauce starts to get thick.
5. After that remove the pan from heat and pour the sauce over the cooked chicken cutlets and serve immediately.
photo source : 1