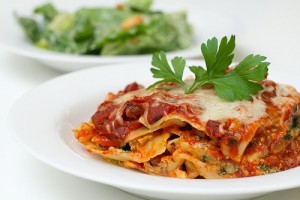 Preparation time : 90 min | Serves 6 persons
This classic lasagna recipe is prepared with ground beef mixture along with delicious flavor of three cheeses; ricotta, Parmesan and mozzarella. The looks of this good recipe is very much appealing and no one restrict himself to eat it.
Ingredients:
2 medium onions (chopped)
2 tbsp olive oil
4 garlic cloves (minced)
1 lb lean ground beef
14.5 oz diced tomatoes
12 oz tomato paste
8 oz can tomato sauce
1 bay leaf
2 tsp Italian seasoning
1¼ tsp salt
¾ tsp pepper
12 lasagna noodles (cooked)
16 oz ricotta cheese
2 large eggs (lightly beaten)
¼ cup grated Parmesan cheese
12 oz mozzarella cheese slices
Fresh parsley for garnishing


Procedure:
1. Sauté onion and bay leaf in 1 tbsp oil.
2. Add garlic and stir to cook for just a minute.
3. Add beef and cook for 10 min until beef crumbles and turn into brown color.
4. When all the water from beef would get dry add diced tomatoes, 1 tsp salt, Italian seasoning and ½ tsp pepper. Cook over medium heat until mixture starts to boil. Then reduce heat and simmer for 30 min.
5. In a mixing bowl stir together ricotta cheese, eggs, Parmesan cheese, remaining salt, and pepper until uniform batter would form.
6. Now take a greased lasagna casserole or baking dish and spread half of the meat sauce mixture at the base.
7. Arrange some lasagna noodles over meat sauce to cover it. Spread half of ricotta mixture and mozzarella cheese slices. Repeat this pattern of layers with the remaining materials (meat sauce, noodles, ricotta mixture and mozzarella)
8. Cover the dish and bake at 350 degrees F for 55 min then uncover and bake for further 10 to 15 min until bubbly.
9. Serve the yummy classic lasagna after cool it to room temperature with garnishing of fresh parsley.
photo source : 1