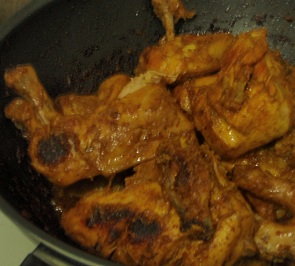 Preparation time : 70 mins. + 3 hrs. Marination time | Serves 4 persons
This steamed chicken recipe is from Pakistani cuisine where it is generally called as "Chargha". It is basically cook on double boiler for 2 hrs. but to reduce time it can be directly cooked on large nonstick pan by simmering.
Ingredients:
1 (2 kg) large chicken (clean and make cuts using knife)
1 tbsp garlic paste
2 tbsp ginger paste
1 tbsp coriander seeds
1 tbsp crushed red chili
1 tbsp cumin seeds
¼ tsp orange food color
3-4 cinnamon sticks
4 green cardamoms
2 black cardamoms
8-10 black pepper corns
5 cloves
300 gm yogurt
Salt to taste
1 cup oil
Procedure:
1. Roast together coriander seeds, crushed red chili and cumin seeds for 2-3 mins until smell starts to come but make sure that spices may not turn into black in color. It is better to add crushed red chilies in the end so that you kitchen would not get too smoky.
2. Grind the above roasted spiced to make powder form.
3. Now mix cinnamon sticks, green and black cardamoms, cloves and pepper and grind them together.
4. In a large mixing bowl beat yogurt to make it smooth and then add all the ground spices, ginger garlic paste, salt and food color.
Now marinate the chicken into the yogurt mixture and spread the mixture over the whole chicken using your hands. Leave the chicken for 3 hrs. in fridge.