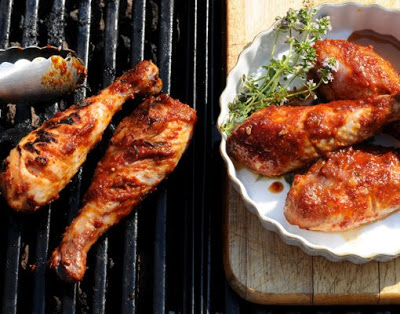 Preparation time : 40 mins | Serves 6 persons
These grilled
chicken drumsticks
are served with a delicious sauce having variety of flavors due to honey, pepper and mint which all combine to give minty sweet-and-sour taste. These drumsticks are usually served with brown rice.
Ingredients:
1/2 tsp grated orange zest
1/4 cup orange juice
1/4 cup water
3 tbsp honey
1 1/2 tbsp apple cider vinegar
1/2 tsp salt
1/4 tsp coriander powder
1 tsp cornstarch
1/4 cup chopped fresh mint
8 chicken drumsticks (skin removed)
1/4 tsp black pepper powder
Procedure:
1. Preheat grill to medium.
2. Marinate drumsticks with salt and pepper and let them cook on slow flame with 1 cup of water until all the drumsticks become tender. it would take 10-15 mins.
3. Mean while prepare the dipping sauce, in a sauce pan combine orange zest, orange juice, water, honey, 1 tbsp vinegar, salt and coriander and cook on medium heat until it starts to boil.
4. In a bowl, mix remaining vinegar with cornstarch to make a smooth paste.
5. Add the cornstarch mixture to the saucepan and let it to boil. stirring the sauce until it becomes thick. After that remove the pan from heat and stir in mint.
6. Now grease the grill rack with oil and grill the drumsticks until crispy from all sides.
Serving:
Serve the drumsticks with the dipping sauce on the side.