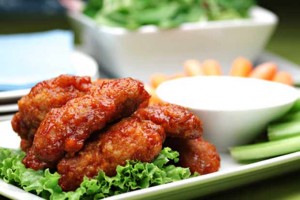 Preparation time : 30 min. | Serves 4 persons
This recipe for buffalo wings is prepared in slightly different manner, the wings is coated in a batter which is generally used for tempura and then dip in delicious sweet and spicy sauce after frying. You may also use the buffalo sauce of your own choice to make it according to your taste.
Ingredients:
For Chicken:
6 chicken wings (cut into halves if neccessary)
½ tsp salt
½ tsp black pepper
Self rising flour as required
1 cup heaped flour
2 tbsp heaped cornflour
2 eggs
2 tbsp oil
½ cup milk
½ tsp salt
½ tsp white pepper
Oil for deep frying
For Sauce:
2 tbsp oil
1 tbsp crushed garlic
2 tbsp ketchup
2 tbsp chili garlic sauce
2 tbsp vinegar
1 tbsp tomato paste
1 tsp sugar
Procedure:
1. Marinate chicken with salt and pepper.
2. In a large mixing bowl mix together 5 tbsp flour, cornflour, eggs, oil, milk, salt and white pepper. Add water to make batter of medium density.
3. Dip marinated chicken wings in the batter for 10 min.
4. After that roll the wings in self rising flour and deep fry for 12 mins. so that chicken would turn into brown color from both sides.
5. To prepare buffalo sauce heat oil in a pan and fry garlic for 1-2 min.until become light golden.
6. Add ketchup, chili garlic sauce, vinegar, tomato paste and sugar and bring to boil.
7. Then remove the pan from heat and toss chicken in the sauce for a minute and serve immediately.
photo source : 1