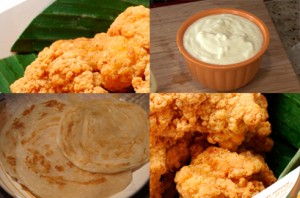 Preparation time : 30 min. | Serves 6-8 chicken wraps
This crispy chicken wraps recipe is actually adopted from Pakistani cuisine where it is most famous in cities. It is prepared with the combination of western and eastern cuisine because in the stuffing crisp fried chicken is used with may garlic sauce and is wrapped with the traditional hot and crisp paratha.
Ingredients:
For Marination:
2 lb boneless chicken breast (cut into squares)
1 tbsp hot paprika
1 tbsp white vinegar
1 tsp chicken powder
For Coating:
1 cup flour
1 tbsp chicken powder
1 egg (beaten)
Oil for deep frying
1 cup mayo garlic sauce
6-8 hot crisp paratha
Procedure:
1. Marinate chicken pieces with the ingredients mentioned for marination and leave for 15 min.
2. Now mix chicken powder and flour in a mixing bowl and coat chicken pieces in the flour.
3. Dip the chicken pieces in beaten egg and then again in the flour mixture.
4. Heat Oil for deep frying and then fry the chicken pieces in batch until become crisp golden brown.
5. Now take a paratha and stuff 2-3 chicken piece in the center of the paratha and spoon 2 tbsp of mayo garlic sauce on top of chicken and then roll the pratha to seal the stuffing. Serve the hot delicious crispy chicken wraps with ketchup.