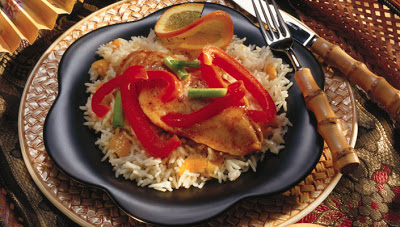 Preparation time : 30 mins | Serves 6 persons
This recipe of spiced chicken is one of the famous recipes from far east cuisine. Its preparation is very simple and easy as there is no need to give extra marination time. Just marinate and bake immediately. You can also grill the chicken in this recipe either in your oven or in a closed grill pan. For more recipes from Far East Cuisine, refer to the book Fast Food Far East which consists of a variety of of fast food recipes including soups and appetizers, fish and seafood, meat and poultry, vegetables and vegetarian dishes, rice and noodle dishes and desserts.
Ingredients:
2 chicken breast
1 tspn ground cinnamon
1/2 tspn ground coriander
1/4 tspn ground cumin
1 tspn black pepper
1 medium red bell pepper (chopped)
4 green onions, (chopped)
2 tbspn orange juice
1 tbspn garlic paste
Salt to taste
10 dried apricots
Procedure:
1. Preheat oven to 450°F.
2. In a mixing bowl, combine all the spices including cinnamon, coriander, cumin, black pepper, red pepper, garlic paste and salt.
3. Marinate chicken breasts into the spice mixture and place each piece of chicken in separate foil paper.
4. Drizzle some orange juice on top of the marinated chicken pieces and put rest of the ingredients i.e. dried apricots and green onions.
5. Now wrap foil paper from sides so that it covers the whole chicken piece, it is better to double fold to seal chicken packet. Place wrapped chicken packets in preheated oven for 20 minutes until it becomes tender and soft. Serve this delicious spiced chicken with apricot rice.