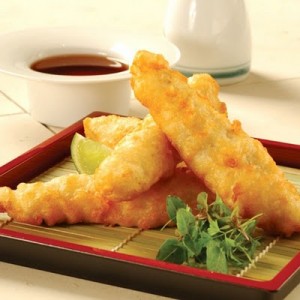 Preparation time : 25 mins. | Serves 12-14 strips
This Chicken Tempura recipe is one of a hot favorite Japanese fried chicken recipe which is exactly similar to the famous prawn tempura. The taste of the chicken is very light and tasty and is great to serve with fried rice, dipping sauce, etc. You can also try the vegetable tempura recipe which is also a very tasty snack.
Ingredients:
1 chicken breast boneless (cut into ½ inch strips)
1 cup all-purpose flour
2 tbsp cornstarch
½ tsp salt
1 tsp garlic powder
1 tbsp soya sauce
½ tsp black pepper
1 tsp paprika
1 cup chilled water (or as required)
1 egg yolk
2 egg whites (lightly beaten)
Oil for deep frying
Procedure:
1. The method is pretty much as the same as shrimp tempura. You start to marinate chicken strips with soya sauce, garlic powder, paprika, pepper and mix well. Leave for at least 15 mins to marinate.
2. In a large mixing bowl, combine flour, cornflour and salt. Add in beaten egg whites egg yolk and chilled water and whisk well to make smooth batter of medium consistency.
3. Heat oil for deep frying in a wok, dip marinated chicken strips in the batter and fry them in batches till become light golden in color. Drain excess oil on kitchen towel.
4. Serve the hot chicken tempura with your favorite dip.
photo source : 1