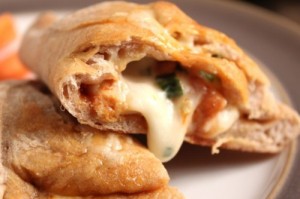 Preparation time : 40 mins. | Serves 3 calzone
This recipe of chicken calzone is prepared with the flavor of herbs and cheese along with chicken. Since calzone is another form of pizza you can also add some veggies inside like mushrooms or bell peppers to make it more tasty.
Ingredients:
2 chicken breast
1 onion chopped
1 capsicum chopped
1 tomato
½ egg
1 cup mozzarella cheese
2 – 3 cloves garlic chopped
1 tbsp crushed red pepper
½ tsp thyme
½ tsp rosemary
½ tsp black pepper powder
3 tbsp olive oil
Salt to taste
For Dough
250 gm flour
1 tbsp yeast
2 tbsp olive oil
Lukewarm water as required
Procedure:
1. To prepare dough mix together flour, yeast, olive oil and knead them well with lukewarm water so that smooth dough would form. Leave the dough by covering it for 10 – 15 mins.
2. Heat olive oil in a pan, add in chopped vegetables with chicken and seasoning of crushed black pepper, thyme, rosemary, black pepper powder and salt to taste. Sauté all these ingredients for few minutes.
3. Divide the dough into three balls. Roll each ball to make it little flat of around 3-4 inches.
4. Put some chicken mixture over the rolled dough, spread grated mozzarella cheese on top.
5. Brush egg on the sides of the rolled dough and fold it from one side to make in half moon shape. Press the edges with fork to seal the filling. Then brush again with olive oil and beaten egg.
6. Place them onto the baking dish and bake in preheated oven for about 20 mins. at 400 degrees F.
photo source : 1