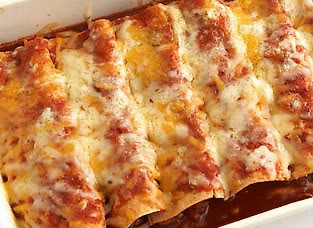 Preparation time : 70 mins. | Serves 12 rolls
These tortilla rolls are filled with chicken stuffing and enchiladas sauce which gives it some spicy flavor. In this recipe half quantity of enchiladas sauce is used as topping which you can omit if you don't want more spicy flavor and hence baking time will be reduced to 30-40 mins.

Ingredients:
1 cup cheddar cheese (shredded)
1/2 cup parmesan cheese
1 cup light sour cream
2 cup enchilada sauce (divided)
4 green chilies (chopped)
12 corn flour tortillas
1 cup boiled boneless chicken (shredded)

Procedure:
1. Preheat oven to 350 degrees F.
2. In mixing bowl, combine cheddar cheese, sour cream, green chilies, and shredded chicken.
3. Take a cup of enchiladas sauce and spread it on each tortilla.
4. Put 2-3 tbsp of chicken mixture onto each tortilla and then wrap in the form of roll.
5. Place the tortilla rolls on greased baking pan and pour the remaining enchiladas sauce and parmesan cheese onto the rolls. Place the baking tray in preheated oven for 50-60 mins until the tortillas bake completely.