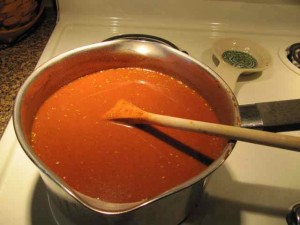 Preparation time : 20 mins | Yield 1.5 cup
This enchiladas sauce recipe is from Mexican cuisine as it is bit spicy than other tomato sauces. In this recipe common red chili powder is used in more quantity as compare to Mexican chili which is more spicy in taste.
Ingredients:
1/4 cup chili powder
2 garlic cloves (minced)
2 cup chicken broth
1 1/4 cup tomato paste
1 tsp dried oregano
1 tsp ground cumin
1/2 tsp salt
1 tbsp flour
3 tbsp vegetable oil


Procedure:
1. In a sauce pan cook flour with oil on medium heat and stir continuously so that flour cooks evenly and don't get brown.
2. When a particular roasting smell starts to come and color of flour turns into pale yellow then slowly add chicken broth and constantly stir the mixture so that lumps may not form.
3. After 2-3 mins when mixture starts bubbling add tomato paste, garlic, oregano, cumin and salt. Cook them together on low heat for 5-10 mins until sauce starts bubbling and would get thick like ketchup.
4. Enchiladas sauce is ready you can preserve it in air tight bottle and keep in fridge.