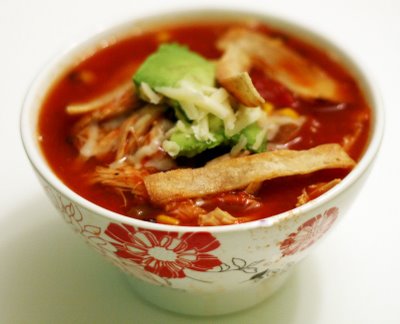 Slow Cooker Recipe : Takes 6-8 hrs.| Serves 4-6 persons
This is another slow cooker recipe on our Recipe Dose, it is served with the baked tortillas. Another main ingredient of this chicken tortilla soup is corn which increases the taste of this particular slow cooker soup.
Ingredients:
500 gm boiled chicken (shredded)
3 cup tomatoes(boiled and peeled)
2 medium onion (chopped)
4 green chilies (chopped)
4 cloves garlic(chopped)
2 cups water
2 cup chicken stock
1 tsp cumin seeds
1 tsp chili powder
1 tsp salt
1/4 tsp black pepper
1 bay leaf
1 1/4 cup frozen corn
7 corn tortillas
Salt to taste
vegetable oil

Procedure:
1. In slow cooker pot put all the ingredients including chicken, tomatoes, onion, green chilies, garlic, water, chicken broth, corn, cumin, chili powder, salt, pepper, and bay leaf. Stir in corn and cilantro. I prefer to use programmable slow cooker which is one of the best programmable slow cooker available in the market.
2. Mix them together in pot, cover, and cook on low heat setting for 6 to 8 hours or on high heat setting for 3 to 4 hours.
3. Now to bake tortillas preheat oven to 400 degrees F.
4. Brush both sides of tortillas with oil and cut into small rectangular pieces.
5. On a parchment sheet spread these tortillas and place in oven for just 10 mins. until become crisp.
6. When the soup would get ready take out in serving bowl and sprinkle the baked tortilla pieces onto the soup.