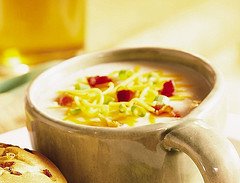 Preparation time : 20 min. | Serves 8 persons
This Recipe for Potato Soup was inspired by the original copycat Hard Rock Cafe Potato Soup. Just follow the step by step instructions in the recipe given below and  your delicious Hard Rock Cafe Potato Soup will be ready in a while.
Ingredients:
1 cup cooked chicken (shredded)
2 tbsp oil
1 cup yellow onions (diced)
2/3 cup flour
6 cup chicken stock
4 cup baked potatoes (diced)
2 cup heavy cream
¼ cup chopped parsley
1 tsp garlic powder
1½ tsp dried basil
Salt to taste
1 ½ tsp chili sauce
1 tsp crushed black pepper
1 cup grated cheddar cheese
¼ cup green onions (chopped)
Procedure:
1. Saute onions over medium heat in a skillet for 2-3 min.
2. Add chicken and cook for just 2 min.
3. Add flour and mix it well with chicken and onion mixture.
4. Now add chicken stock to the mixture and stir constantly to avoid lumps when the mixture become smooth cook it on medium heat until it starts to thick.
5. After that add potatoes, cream, parsley, garlic, basil, salt, chili sauce and black pepper and simmer for 8-10 min.
6. Just before serving add grated cheese and green onion on top and simmer until cheese melts completely. Serve the delicious hot potato soup with French bread or garlic bread.
photo source : 1