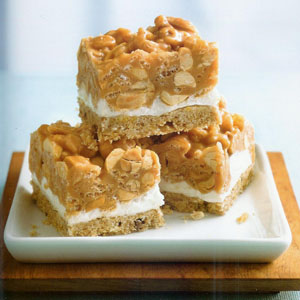 Preparation time : 20 min. | Serves 3 dozen bars
These peanut bars are prepared from three different toppings including crumbs layer, marshmallows and in the end yummy peanut butter sauce with salted peanuts topping. Though the list of ingredients are long but the method is simple and quick to prepare at home.
Ingredients:
1-1/2 cups flour
2/3 cup brown sugar
1/2 tsp. baking powder
¼ tsp salt
¼ tsp baking soda
½ cup butter (softened)
¼ cup peanut butter
1 tsp vanilla
3 cups miniature marshmallows
2/3 cup light corn syrup
¼ cup butter
1 cup peanut butter chips
½ cup white chocolate chips
¼ cup peanut butter
2 cups crisp rice flake cereal
1-1/2 cups salted peanuts
Procedure:
1. Preheat oven to 350 degrees.
2. To make crumb layer beat together flour, brown sugar, baking powder, salt, baking soda, ½ cup butter, ¼ cup peanut butter, and vanilla in large bowl.
3. When all of the ingredients mix well and form smooth crumbs then transfer it into the baking pan and press the crumbs mixture evenly at the base of the pan. Bake for 15 min until become light brown from top.
4. After that make a payer of marshmallows over the baked crumbs and again bake for 2-5 min until marshmallows begin to puff, then immediately remove the pan from oven and cool it to room temperature.
5. To make top layer combine corn syrup, 1/4 cup butter, peanut butter chips, white chocolate chips, and ¼ cup peanut butter in a large saucepan and cook for 5-10 min until all the ingredients melt and mix well to make smooth sauce.
6. Pour this sauce over the prepared crumbs and marshmallows and sprinkle salted peanuts on top. When the sauce sets completely cut in to bar shape.