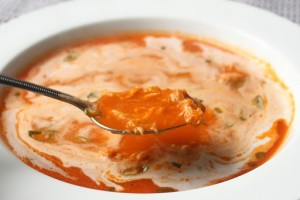 Preparation time : 20 mins. | Serves 2 persons
This Crab Soup Recipe is prepared with tomato soup and old bay seasoning flavor. In some other recipes it is prepared with cream of corn or chicken soup which is also delicious. You can add variety of vegetables to this soup like corns, peas and beans.
Ingredients:
1 lb crab meat (cooked and flaked, cartilage removed)
¾ cup spring onion (finely sliced)
2 cup tomato soup (slightly thin)
1 tsp old bay seasoning
1 tsp red chili powder
½ cup whipped cream
¼ tsp black pepper
¼ tsp salt
2 tbsp butter
For Old Bay Seasoning:
1 tbsp celery seed
1 tbsp whole black peppercorn
6 bay leaves
½ tsp whole cardamom pod
½ tsp mustard seeds
4 whole cloves
1 tsp sweet paprika
¼ tsp mace
Procedure:
1. To prepare bay seasoning grind all the ingredients in the grinder and make powdered form. It will yield around 5 tbsp.
2. Heat butter in a heavy pan, saute spring onion with old bay seasoning for just 2-3 mins.
3. Add tomato soup and let the mixture boil.
4. Add paprika and crab meat and simmer for 10 mins.
5. Combine whipped cream salt and black pepper in a mixing bowl.
6. Turn off the heat of the soup when it gets slightly thick then add the whipped cream mixture and stir 2-3 rounds only.
7. Serve the hot crab soup with topping of sliced spring onions.
photo source : 1