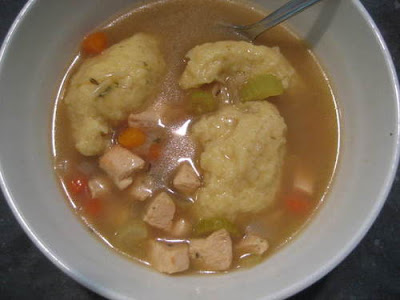 Preparation time : 25 mins. | Serves 4 persons
This chicken dumpling soup is simple and bit more quick then other soup recipes as it is prepared in electric pressure cooker. The basic stock of chicken with vegetables is prepared in cooker while dumpling batter is simple which is also cooked in cooker by simmering.
Ingredients:
For Stock:
1 kg chicken (cut into large pieces)
4 cups water
1⁄2 cup sliced carrots
1⁄2 cup chopped onion
1⁄4 cup chopped celery
2 cloves
1 cinnamon stick
2 green cardamoms
1 black cardamom
2 bay leaves
4 cloves garlic
2 inch ginger piece
1 tsp salt
1⁄4 tsp black pepper
For Dumplings:
1 egg (beaten)
1/2 cup milk
1/2 tsp salt
1/2 tsp baking powder
140 gm all purpose flour
Procedure:
1. To prepare stock, at first make a bag of muslin cloth in which you need to put warm spices including cloves, cardamoms, cinnamon sticks, bay leaves, garlic and ginger. Tie the bad from top so that the ingredients could not drop from the bag.
2. In an electric cooker add chicken pieces, water, salt , pepper, vegetables and muslin bag and cover the lid of cooker. Cook the stock for 15 mins. at 400°.
3. To cook stock properly at first reduce the heat control up to the point where light turns off and when cooking time is over turn off the heat control and remove it so that pressure releases itself.
4. Mean while when the stock is cooking prepare batter for dumplings to make dumplings prepare batter by mixing milk egg, salt, baking powder and flour. Mix them using whisk.
5. After that remove the lid and take out muslin bag and chicken pieces from the stock. Separate meat from bones and add it to the stock after making its small pieces.
6. Bring the prepared stock to boil and then drop the dumpling batter into this stock using tablespoon. Cover the lid and cook on slow heat for just 10 mins.
6. After that when dumpling gets their shape turn off the flame and delicious chicken dumpling soup is ready to serve.