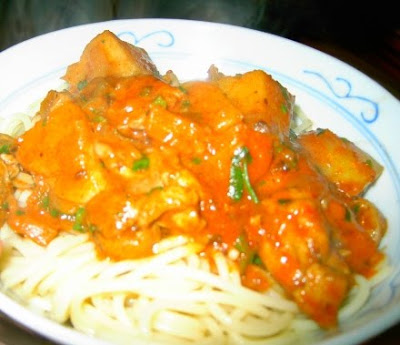 Preparation time : 35 mins. | Serves 6 persons
This chicken paprika is one of spicy chicken recipe and contains both sweet and hot paprika flavor. The main ingredients of gravy are onions, tomatoes and red pepper which then blend together after some cooking gives excellent taste.
Ingredients:
1 kg chicken pieces
2 cup onions (finely chopped)
4 cloves garlic (finely chopped)
3 red tomatoes (chopped)
4 red peppers (finely chopped)
3 tbsp sweet paprika
1 tbsp hot paprika
Salt to taste
1 tsp black pepper
1/4 cup vegetable oil
1/2 cup chicken stock
1 cup fresh cream
Procedure:
1. Fry chicken pieces in oil for 4-5 mins until color of chicken turns into white. Then take them out from oil.
2. In the same oil slightly fry onions and garlic in vegetable oil for just 3-4 mins so that they become soft.
3. After that add red pepper and tomatoes and cook on medium heat until tomatoes become soft and gravy would form.
4. Now add rest of the ingredients hot and sweet paprikas, stock, salt and pepper and cook for a minute.
5. When all the spices and mixture mixes well then using a hand blender make a smooth paste of gravy.
6. Add the fried chicken pieces in the blended gravy and cook on slow heat for 15-20 minutes until chicken become completely tender.
7. After that remove the pan from heat, add fresh cream to the chicken and mix it well in the gravy.
8. Serve the delicious chicken paprika with noodles or rice.