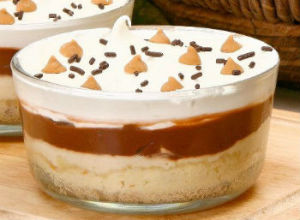 Preparation time: 50 mins. (approx.) + Refrigeration time | Serves 8-10 persons
This Peanut Butter Pudding Pie is prepared with lots of yummy flavors and it would be a wonderful Christmas dessert. This no-bake pie is prepared with peanut flavor crust, peanut butter-cream cheese batter, vanilla pudding and chocolate pudding, and whipped cream topping. In the end, the dessert becomes the rich, tempting, and delicious food that everybody loves.
Ingredients:
For Crust:
4 oz dry roasted peanuts (chopped)
4 oz all-purpose flour
4 oz unsalted butter (cold)
For Peanut Butter Filling:
6 oz peanut butter
8 oz cream cheese
4 oz powdered sugar
For Pudding Filling:
1 small pack of instant vanilla pudding
1 small pack of instant chocolate pudding
24 oz milk
For Topping:
8 oz heavy cream
1 tbsp granulated sugar
Few peanut butter kisses
Few chocolate chips
Procedure:
1. In a food processor, process together flour, roasted peanuts, and butter just to make a crumbs mixture.
2. Transfer that mixture onto the deep dish or large serving bowl and press tightly to make a firm crust.
3. Bake it in preheated oven at 350 degrees F for 15-20 mins. then cool it to room temperature and then put it in the fridge.
4. In a mixing bowl, cream together peanut butter, cream cheese, and powdered sugar until well combined.
5. Pour this batter onto the prepared crust and refrigerate for a few minutes to set.
6. Meanwhile whisk vanilla pudding mix with 12 oz milk until becomes thick. Similarly, prepare chocolate pudding with the rest of the milk.
7. Now start making layers of vanilla and chocolate pudding alternately and then refrigerate till the layers set well.
8. In the meantime, prepare the cream topping by whipping the heavy cream on medium-low speed until it starts to thicken, then add sugar and beat at high speed until soft peaks form.
9. Spread this whipped cream onto the pudding layer and top with some peanut butter kisses and chocolate chips. Refrigerate again for at least half an hour until all the layers get firm.