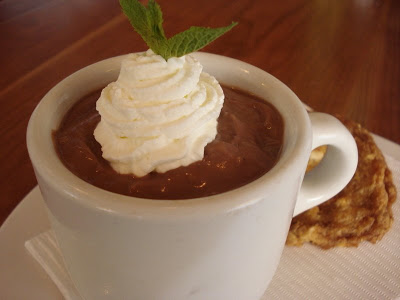 Preparation time : 20-30 mins | Serves 4 persons
Pudding is an easy dessert and when it is served in chocolate flavor then it does not take long to finish. Here I have shared an easy
chocolate pudding
recipe which does not require any special cooking skills. When served hot, it is usually used as toppings for brownies otherwise it can be cooled in a fridge and served as a separate dessert

Ingredients:
4 egg yolks
1 cup sugar (or to taste)
2 oz chocolate
1.5 ltr milk
Procedure:
1. In a bowl, beat egg yolks and sugar to make smooth paste. It hardly takes 5 minutes by using electric beater.
2. In a sauce pan, boil milk on medium heat.
3. When milk starts to boil, add the egg yolk mixture in it and mix. Cook it for 5-10 minutes until the mixture boils and keep stirring the mixture while cooking.
4. After that, put the chocolate bar in the mixture and cook until all the chocolate melts.
5. Chocolate pudding is ready and you can serve it in both styles either hot or chill.
Serving:
The taste of this chocolate pudding enhances when it is served with brownies.