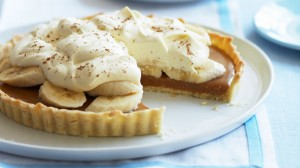 Preparation time : 30 mins. + Chill time | Serves 6 persons
This banoffee pie recipe requires little or even no more baking if you are making crust with crackers but here the crust is prepared with a particular dough which is little crispy and soft. Though the original banoffee pie filling requires lots of time to prepare but here is a simple and quick recipe for the particular pie filling results in same great taste.
Ingredients:

For Tart:
3 tbspn cream cheese
1 cup plane flour
½ cup butter
For Filling:
400 gm condensed milk
Bananas as required
2 cup whipped cream
3 tbsp margarine
1 cup brown sugar
Procedure:
1. In a bowl combine ingredients mentioned for tart and make smooth dough.
2. Take a suitable pie dish make a crust using this dough around the base and sides of the dish. Press the dough tightly to make a thin layer so that the crust will be crispy.
3. Bake the crust for 8-10 mins in preheated oven for 350 degrees F, it is better if you place some beans with plastic sheet over this crust so that the crust may not rise and remain stick to the base.
4. Now make filling for the pie, in a sauce pan combine condensed milk, brown sugar and margarine until become caramelized, it would take 10-15 mins.
5. Pour this caramel sauce over the crust and place in fridge for few mins to set.
6. After that spread sliced bananas over the sauce and topped with whipped cream.
7. Chill the banoffee pie before serving.
photo source : 1