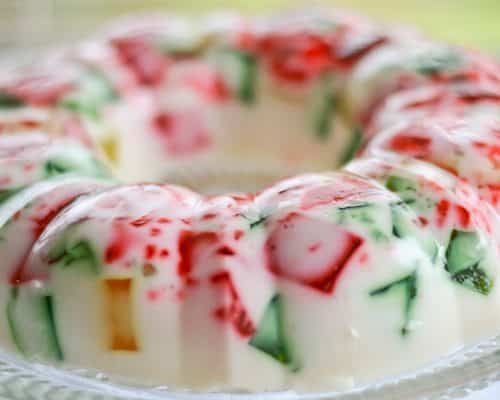 Preparation time: 30 mins. | Serves 4-6 persons
This Broken Glass Dessert is a quick and easy dessert that everyone can make easily. You can use any fruit jelly of your choice and make the dessert colorful accordingly. You may also use some chocolate or strawberry sauce for topping and make the dessert more tempting.
Ingredients:
1 pack of red jelly
1 pack of green jelly
1 pack of yellow jelly
1 pack of orange jelly
2 tbsp gelatin powder
2 cup whipping cream
½ cup caster sugar
½ cup condensed milk
1 tsp vanilla essence
Procedure:
1. Take four small square dishes and place all the colors of jelly in separate dishes.
2. Pour 1 cup of hot boiling water into each of the dishes and stir well to mix the powder in the boiling water.
3. Now add ½ cup cold water to each dish and mix well. Place the dishes in the fridge until they get firm.
4. Take a mixing bowl and beat whipping cream until stiff peaks form, then mix with vanilla, caster sugar, and condensed milk.
5. Dissolve gelatin in ¼ cup hot water and then mix with the cream batter.
6. Now cut the frozen jelly into cubes and fold them into the batter.
7. Take a bundt pan or any mold and pour the batter into it, place the pan in the refrigerator for at least 2-3 hrs. or until it sets nicely.
8. After that dip the pan in warm water for a few seconds, loosen the edges using a knife, place the platter on top of the pan, and then invert the pan over the dish. The broken glass dessert is now ready to serve.
photo source : 1