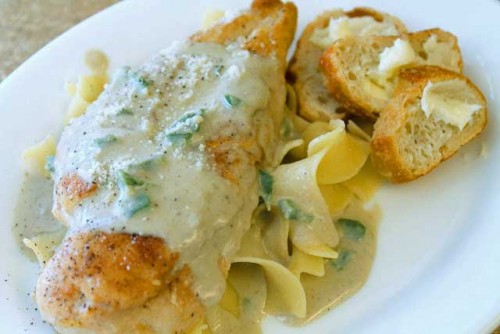 Preparation time: 25 mins. | Serves 4 persons
This Jalapeno Chicken Recipe is a quick and easy chicken recipe. It is prepared in two steps first chicken is cooked by frying method then creamy jalapeno sauce is made which is used as the topping of the chicken. The chicken is very delicious and has a little bit of spicy flavor due to the jalapeno.
Ingredients:
4 chicken breasts (flattened)
Salt to taste
1 tsp crushed black pepper
1 tsp garlic (minced)
1 cup cornmeal or breadcrumbs
2-3 tbsp oil
For Jalapeno Sauce:
1 tbsp oil
1 tsp garlic (chopped)
10-12 jalapenos (finely chopped)
1 cup fresh cream
1 tsp crushed red pepper
½ cup chicken stock
Salt to taste
2 tbsp orange juice
Procedure:
1. In a mixing bowl combine chicken breasts with salt pepper and garlic and leave for 10 mins.
2. Then coat the marinated chicken breasts with cornmeal and set aside.
3. Heat 2-3 tbsp oil in a skillet or frying pan and fry chicken fillets for 5-8 mins. each side so that the chicken gets cooked completely and then transfer the chicken pieces onto the serving platter.
4. Now make jalapeno sauce, for that you need to heat oil and sauté garlic in it for just 1-2 mins. then add jalapeno pepper and cook for just 1-2 mins.
5. Add chicken stock, salt, crushed red pepper, and orange juice, and bring the mixture to a boil.
6. In the end add cream and mix well and cook over high so that sauce gets a little thick.
7. Pour this jalapeno sauce over the cooked chicken pieces and serve the delicious, spicy Jalapeno Chicken with cooked pasta or boiled rice.
photo source : 1