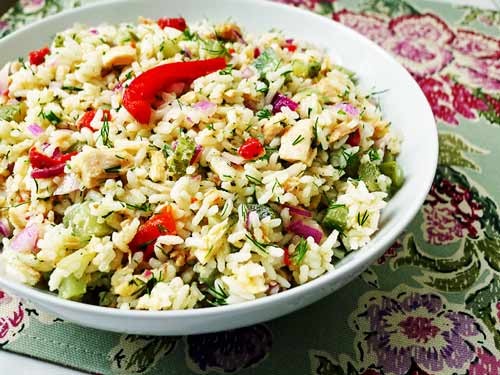 Preparation time: 15 mins. | Yield 1 large bowl
This Tuna Rice Salad is a low-fat salad made with tuna flakes, cooked rice, vegetables, and light seasoning. You may add vegetables of your choice but the taste of dill pickle, tomato, and onion enhance the flavor of this salad.
Ingredients:
1 can tuna fish can (drained and flaked)
2 cups cooked long-grain rice
1 red onion (chopped)
1 small capsicum (finely chopped)
1 large tomato (seeded and chopped)
3-4 small dill pickles (chopped)
2 tbsp fresh dill (chopped)
¼ tsp paprika
Salt and pepper to taste
1 tsp lemon juice
2 tbsp olive oil
Procedure:
1. In a mixing bowl combine olive oil, lemon juice, paprika, salt, and pepper, and whisk together until well blended.
2. Add rice, tuna, and all vegetables including onion, tomato, dill pickle, dill, and capsicum. Stir well to mix the dressing well.
3. Tuna Rice Salad is now ready to serve.
photo source : 1