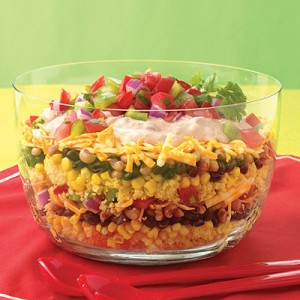 Preparation time : 10 min. + 2hrs. Refrigeration time
This cornbread salad is prepared with lots of veggies which you can add according to your choice and taste. The dressing of this salad is simply prepared with mayonnaise and sour cream with flavor of slat and pepper. Adding salsa for topping makes this salad delicious and obviously full of energy.
Ingredients:
1 medium size cornbread (crumbled)
1/2 cup celery (chopped)
1 bell pepper (chopped)
2 red tomatoes (cut into cubes)
1 bunch green onions (chopped)
3 hard-boiled eggs (grated)
1 cup whole kernel corn (drained)
1 cup black beans (rinsed and drained)
¼ cup salsa
½ cup sour cream
¾ cup mayonnaise
Salt and pepper to taste
Procedure:
1. In a salad bowl start making layer of cornbread and veggies, at first spread half of the cornbread crumbs at the base, put half of the chopped veggies on it including celery, pepper, tomatoes, onion, corn and beans.
2. Spread half of the grated boiled egg onto the veggies and repeat the same pattern of layers of crumbs, veggies and egg.
3. In the end whisk together sour cream and mayonnaise and pour it to the salad evenly, top with salsa and sprinkle some salt and pepper. Refrigerate the salad for 1-2 hrs. and then serve.
photo source : 1