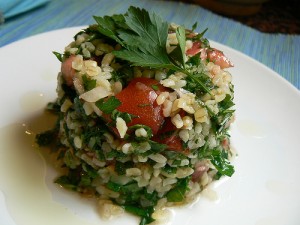 Preparation time : 10 min + 60 min chill time and soak time | Serves 1 large bowl
This tabouli recipe is one of a famous Arabic food which is full of nutrition. It is mainly prepared with wheat and veggies which are then mixed with simple lemon dressing and then chill before serving.
Ingredients:
1 cup water
1 cup fine cracked wheat
1 cup fresh parsley leaves (minced)
½ cup fresh mint leaves (minced)
½ cup yellow onion (finely chopped)
3 tomatoes (diced)
2 cucumbers (seeded and diced)
3 tbsp olive oil
3 tbsp lemon juice
1 tsp sea salt
Procedure:
1. Soak wheat in water for 20-30 min. until wheat become soft.
2. Now add remaining ingredients including herbs and veggies and mix well.
3. Prepare dressing for tabouli by combining lemon juice, olive oil and sea salt.
4. Add dressing to the veggie and wheat mixture and toss well and then refrigerate tabouli for at least 30 min until it chills well.
photo source : 1