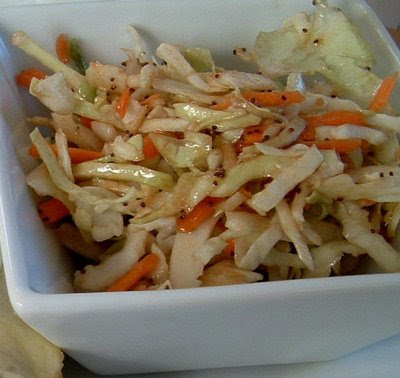 Preparation time : 15 mins | Serves 4 persons
This is another cole slaw recipe from recipedose, it is an original California Cole Slaw dressing in which you can add vegetables of your own choice. It is very easy to prepare in just few minutes and can be enjoyed with any fast food snack. For more recipes of salad dressing, refer to the book Salad Dressings 101, which contains over 101 delicious and nutritious salad dressing recipes of wide variety.
Ingredients:
1 small cabbage
1 small onion (chopped)
1 green bell pepper (chopped)
1 red bell pepper (chopped)
1 small carrot (chopped)
1/2 cup white vinegar
3 tblspn sugar
1/2 tspn salt
1/4 tspn freshly ground black pepper
1/2 cup vegetable oil
Procedure:

1. Take a salad bowl and mix all the vegetables in it.
2. Now to prepare dressing, take another bowl and add vinegar, sugar, salt, pepper and vegetable oil in the bowl with the vegetables. Mix all these ingredients using whisk so that every flavor and ingredient mixes together.
3. In the end, pour the dressing on the mixed vegetables and toss them using tongue. Healthy Cole slaw is ready to serve.