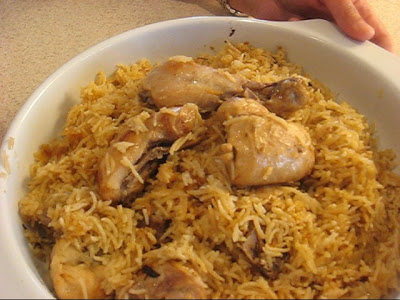 Preparation time : 45 mins | Serves 4 persons
This chicken pilaf is very much famous in South Asian cuisine and is generally known as "yakhni pulao". This pilaf can be prepared with any meat of your own choice, it is very light and healthy rice recipe. For more recipes that are made in rice cooker, refer to the best selling book, The ultimate Rice Cooker Cookbook, which contains 250 recipes ranging from pilafs to soups and more.
Ingredients:
For Chicken Stock:
1 kg chicken pieces
5 cup water
1 medium size onion (cut into large pieces)
4 green cardamoms
3 cinnamon sticks
2 black cardamom
5 cloves
2 star nuts
2 bay leaves
4 garlic cloves
1 inch thick ginger piece
Salt to taste
For Pilaf:
1 kg rice (soaked in water for an hour)
1 medium size onion (cut into julienne)
2 medium size tomato (cut into large pieces)
1 tbspn ginger garlic paste
1 cinnamon stick
2 cloves
2 green cardamom
1 black cardamom
1 tbspn red chili powder
1 tspn turmeric powder
5-6 black pepper seeds
1 tbspn cumin seeds
3-4 green chilies
½ cup mint leaves (chopped)
Salt to taste
2/3 cup oil
Procedure:
1. To make stock for pilaf follow the steps of chicken stock recipe.
2. Take a deep-wide sauce pan so that rice can easily prepare in it. Fry onions in the oil until they become light golden in color. Mean while add cinnamon, cloves, cardamoms in the onion so that a pleasant smell and aroma starts to come from the oil.
3. Now add tomato pieces, ginger garlic paste, red chili powder and turmeric powder and cook until tomato becomes soft and tender to form gravy.
4. After that add green chilies, mint leaves and cook for further 2 minutes with ½ cup of water.
5. Now add hot boiled and drained chicken stock with chicken pieces only to the gravy and let it boil and mix in the gravy.
6. Add rice in the end and if rice would not completely dip in the stock sauce, add more water so that all the rice should cover. Cover the pan and cook rice on high flame until the sauce starts boiling and absorb in rice, it would take 8-10 mins.
7. When the sauce almost absorbs in the rice, reduce the flame to very low and cook for further 10 mins so that rice become tender and soft.
8. When the chicken pilaf becomes ready serve it hot in a beautiful rice dish with raita or any meat curry.