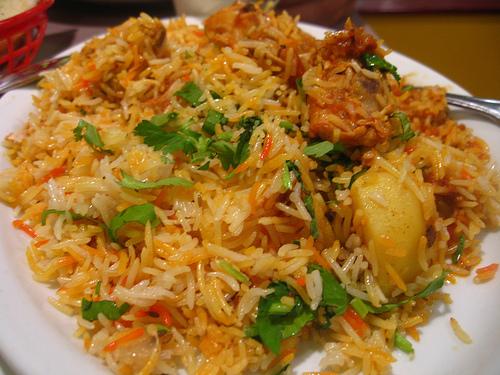 Preparation time : 1hr. | Serves 8-10 persons
Biryani is typical South Asian dish which is usually made from meat of any kind. (Beef, chicken, mutton, prawn and fish). Meat, rice and potato are its main ingredients. There are many methods for preparing biryani of which some are spicy some are not . It is not necessary that it is always spicy. In this recipe chicken is used and hence the name
Chicken Biryani
.

Ingredients:
1kg chicken pieces
1 kg rice
4 medium size onions (julienne)
6 medium size tomatoes (cut in large pieces)
3 cups yogurt (as required)
2 tbspn ginger paste
2 tbspn garlic paste
1 packet biryani masala [or use cumin powder 1tbspn, black pepper 1tspn, coriander powder ½ tbspn, all spice powder 1½tbspn, nutmeg and mace powder ½tspn, turmeric powder 1tspn, salt, cardamom 5, cinnamon sticks 4, cloves 7 ]
4-5 dry apricot (alu bukhara)
Water as required
1 tspn red food color of saffron
2 cup oil
Procedure:
1. Soak rice in water.
2. Heat oil in a pan and fry chicken for 10 mins. till its color changes to white. Then drain out chicken from oil.
3. In the same oil fry onions for 10-15 mins. onions till become light brown.
4. Now add tomato and ginger garlic paste and stir to mix well. Cover the pan for 5 mins. to cook tomatoes.
5. When tomato become completely tenderize add the fried chicken pieces and mix.
6. Cover it for 10 mins. to cook the chicken. In the mean while boil water for rice on other stove.
7. When all the water of chicken has been dried and add biryani masala pack in it or use spices mentioned above instead of pack.
8. Add 2-3 cups water in it as u require with 4-5 dry apricot and let it cook for 5-8 mins.
9. When the water of rice is boiled add few cloves, cinnamon sticks, cardamom, 3 tbspn salt and 2 lemon juice and rice.
10. When rice starts to boil (on one boil) drain out all the water from the rice. Keep in mind rice should not completely done it should be half done at this stage.
11. Now check the chicken curry and add yogurt according to your taste (make sure the gravy is little bit sour in taste). Cook the gravy until all the oil starts to separate from the gravy. Remove it from stove.
12. Now make layers; Ina deep pan make first a layer of rice then spread chicken curry over it then again make a layer of rice and spread all the curry over it and cover with the rice layer in the end. Sprinkle red food color or saffron paste on it in the center.
13. On a pre heated iron skillet put this pan, cover it tightly and cook on high flame for 10 mins until steam comes or smell starts to appear.
14. After 10 mins. reduce the flame to very low and cook for 15 mins.
Servings:
Delicious chicken biryani is ready to serve with raita (yogurt spicy smoothie).
Variations:
You can also add large potato pieces in the biryani. For this you have to fry the potato in a very little oil for 10 mins. and add them in gravy to cook them completely when you add water in the gravy. If you want to eat meat-less biryani you can also make vegetable biryani with make some little changes in the above recipe .